I love how many vegan restaurants Toronto has now and it seems that every few months there is a new one!

I really think Toronto is one of the best places to be vegan in the world and I love how many vegan restaurants there are now.
I made this list because, well, no one else has! I've always been interested in knowing how many 100% plant-based restaurants there are in the 6ix so I thought why don't I just do it?
I've included bakeries in this list even though are they technically restaurants?

Anyways, all of the places on the list are COMPLETELY vegan. Isn't it nice to order food knowing you can choose anything on the menu??
The downside of making this a stipulation for my list is that there are a lot, A LOT, of places I had to leave out. These include places that have a vegan menu but are located in the same restaurant as one that serves animal products. This was a tough decision but ultimately I think it's fair. Also, maybe one day those places will go completely vegan, and then I can add them.
It really pains me though because of this Fat Choi and Gia/Stefanos aren't on here but they are both on my favourites list so check them out also. This also means that a lot of vegetarian places are left out.
The last thing to cover before we get into the list is what do I mean by Toronto. I've basically set the boundaries of Steeles to the North, Rouge River to the East, and Etobicoke Creek to the West.
I did a lot of research for this list but I may have missed some places. If I did be sure to leave a comment 🙂
*List is alphabetical
$ – Cheap
$$ – Average
$$$ – Premium
---
All of the Vegan Restaurants Toronto:
A. B. C. D. E. F. G. H. I. J. K. L. M. N. O. P. Q. R. S. T. U. V. W. X. Y. Z.
A
100 Broadview Ave. – Unit 202
4.8⭐️⭐️⭐️⭐️ – 66 Google reviews – $
ALK is located on Broadview near Queen and their website states "…[they are] Bringing You Affordable Healthy Vegan Options". They also aim to not make people feel pressured into not eating meat but rather they want to offer healthy and tasty alternatives. Their menu includes soups, sandwiches/wraps, bowls, croissants, and drinks. I have yet to try this place yet but it has been on my list so I will be soon! I am eying their Shitake Gyro and Lox Croissant.
1672 St Clair Ave W.
5.0⭐️⭐️⭐️⭐️⭐️ – 18 Google reviews
Coffee. Deli. Sandwiches. Sweet treats.
Avelo – Vegan Restaurants Toronto
51 St Nicholas St.
4.5 ⭐️⭐️⭐️⭐️ – 401 Google reviews – $$$
Do you remember Awai on Bloor West? Well, Avelo is from the same team! I still remember my first time dining at Awai and it was an amazing experience. It was the first time I experienced phenomenal vegan food and realized that we don't have to give up on taste or fine dining being plant-based. Their new location it much cozier and more central. They offer a similar type of menu as before, that being you either choose the 5 courses ($75/person Fri-Sat, or $65 Wed-Thu) or 8 courses ($110/person) and you only know what is being served when it arrives at your table. I personally love this experience and not knowing what I'll be eating until it lands at my table. I've never had a bad dish at Awai and Avelo and I highly recommend this vegan restaurant.
They are open for dinner, Wednesday through Saturday from 5:00 pm. Last seating is at 9:00 pm on Fridays and Saturdays, and 8:30 pm on other days. They offer dietary alternatives such as gluten-free but require a 48 notice.
B
816 Dundas St. W. – 4.9 ⭐️⭐️⭐️⭐️ – 127 Google reviews – $
Bad Attitude Bread is a plant-based bakery headed by baker Logan Dunn. The bakery is named as a homage to his parents who always told him off for his bad attitude. The bakery sold out of its entire inventory in just two and a half hours on its first day and some of their popular items include brioche cinnamon swirls, cheddar "bay biscuits," double-baked buttered bagel buns, and something Dunn calls "menage a trois" bun-sampler pack. They also offer Sesame "Honey" Cookies ($3.50) which are easy crowd-pleasers and Cherry Cheesecake Braid ($6.50) which is a tangy hearty treat. For now, the coffee option is a pour-over ($3.50) using Habit Coffee beans- another small business Dunn wants to support. You can also find Bad Attitude at First and Last Coffee and Trinity Market
873 Bloor St W. – 4.5⭐️⭐️⭐️⭐️ – 702 Google reviews – $$
715 Queen St W. – 4.5⭐️⭐️⭐️⭐️ – 265 Google reviews
2901 Bayview Ave. – 4.5 ⭐️⭐️⭐️⭐️ – 95 Google reviews
Bloomers make amazing vegan donuts handcrafted every day at their family-owned business. They also make really good bagels and sell ice cream. They have been around since 2014 and I can still remember the first time I tried one of their doughnuts, it was that good. Be sure to check them out at one of their two locations. They offer a really large selection of donuts (but rotate them daily) and have seasonal ones on top of this. They also offer catering for larger events and weddings.
Buddhas Vegan Restaurant
666 Dundas St W.
4.5 ⭐️⭐️⭐️⭐️ – 799 Google reviews – $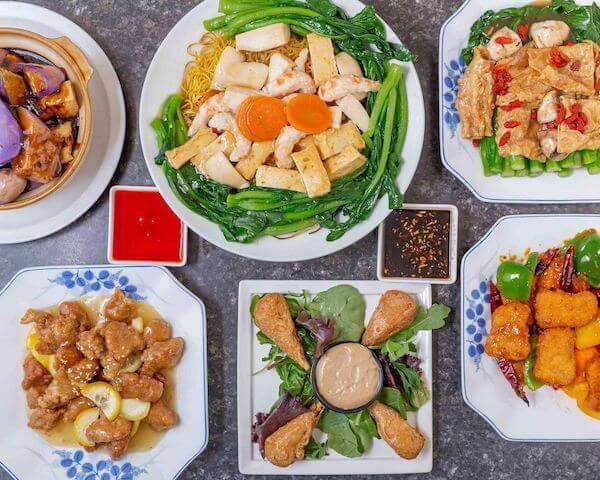 One of the OG vegan restaurants in Toronto with an ominous address. I remember my dad getting takeout from here back in the 90s and we could have a meal for the whole family and leftovers for a few days, all for $20. It was super cheap and had good food. It's still fairly priced but bordering on the $$ designation. They have a really big menu but you definitely need to try the imitation duck! This place is my go-to for Asian food.
244 Augusta Ave. – 4.4 ⭐️⭐️⭐️⭐️ – 636 Google reviews – $$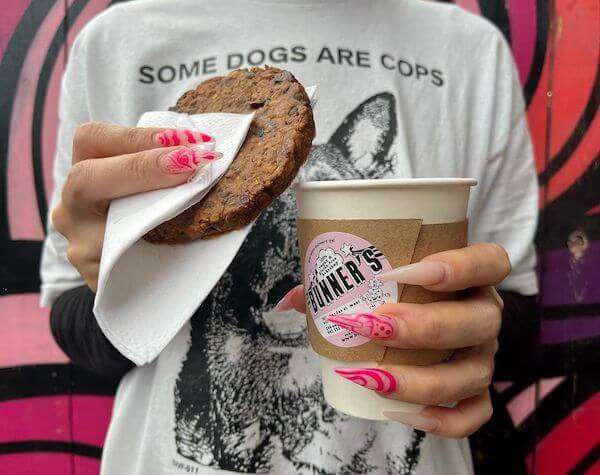 Bunner's has been around since 2010 and they make traditional vegan and gluten-free treats from their two locations. They have a very large selection of items with everything from Bake-at-home and prepared meals to muffins, cinnamon buns, brownies, and scones. They also deliver which is great.
Burger Tree – Vegan Restaurants Toronto
2313 Yonge St.
4.6 ⭐️⭐️⭐️⭐️ – 18 Google reviews – $$
Located inside the Kupfert and Kim location on Yonge Burger Tree offers plant-based meals that are also gluten-free. What makes this place unique is that they are trying to offer more than just one gluten-free option like most restaurants have. There are 5 burgers to choose from or you can make your own. they also have 4 chick'n burgers (made from oyster mushrooms!), load fries/nachos, shakes, salads, sides, drinks, and treats. Definitely on my visit soon list.
C
1651 Bloor St. W.
4.9 ⭐️⭐️⭐️⭐️ – 183 Google reviews – $
Family-owned vegan bakery offering cookies, sandwiches, cupcakes, flatbreads, cakes (preorder) drinks, and more. Their desserts are made from scratch in small batches every day, they deliver and have a patio! Their items are also coloured naturally and refined sugar-free.
Celebrity Pure Vegetarian
1474 Eglinton Ave W.
4.5 ⭐️⭐️⭐️⭐️ – 95 Google reviews – $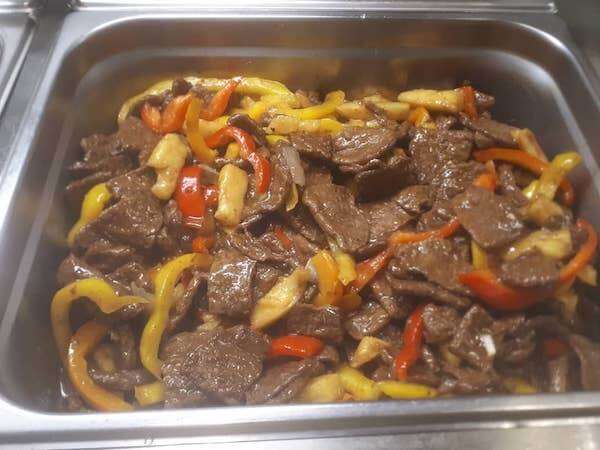 A vegan Caribbean restaurant that opened in 2019 making meals that come with a variety of different dishes. Also offers breakfast and smoothies. Popular dishes are BBQ seitan, coconut milk-based soups, chow mein, and fried rice packed with veggies. Available on Uber Eats and Doordash.
5210 Yonge St.
5.0 ⭐️⭐️⭐️⭐️⭐️ – 55 Google reviews – $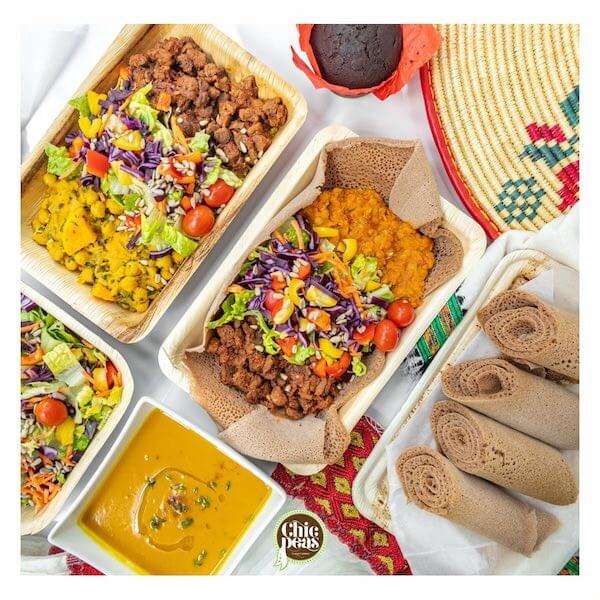 Found in the food hall at 5210 Yonge St. they offer catering, meal plans, pop-up brunches, and online cooking classes. Prices are reasonable and the food looks amazing.
Cinnaholic – Vegan Restaurants Toronto
2190 Bloor St W. – 4.7 ⭐️⭐️⭐️⭐️ – 86 Google reviews
319 Danforth Ave. – 4.2 ⭐️⭐️⭐️⭐️ – 312 Google reviews – $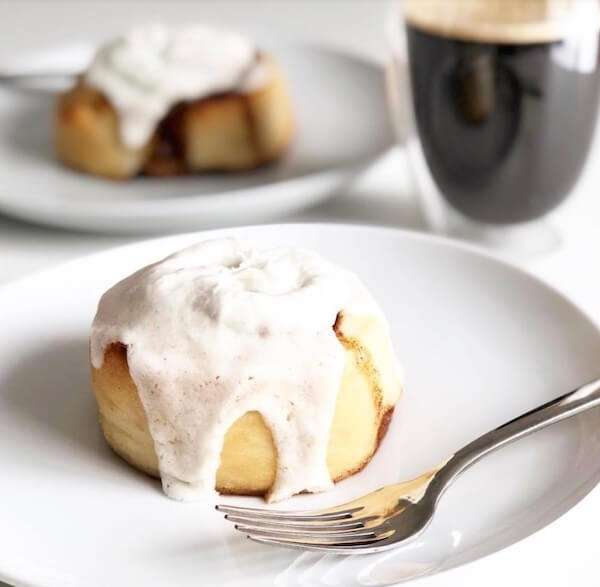 All vegan bakery that serves fresh cinnamon buns….need I say more?
199 Bay St. – 4.0⭐️⭐️⭐️⭐️ – 165 Google reviews – $$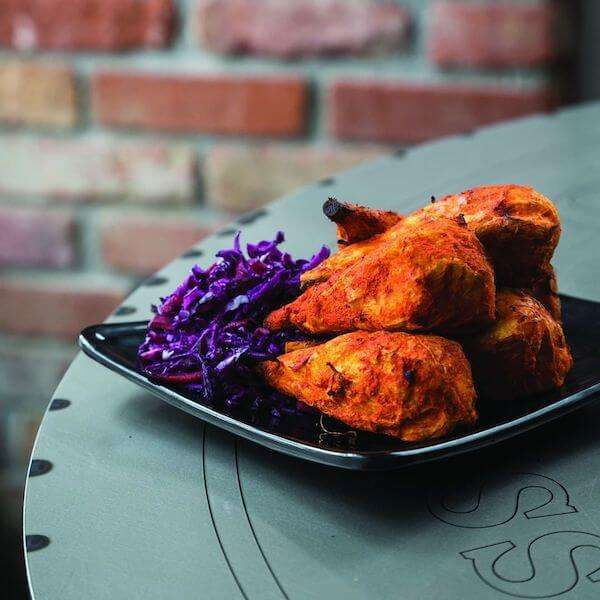 With lots of locations across Canada and a couple in the United States, Copper Branch has you covered for vegan food when you are traveling. Toronto only has 1 now sadly but they offer Power Bowls, Burgers/Sandwiches, Smoothies, All-day Breakfast, and more. The Buffalo Wings from the picture are a must-try! Lots of plant-based meals that are pretty healthy make Copper Branch key to the Toronto vegan scene.
E
Eat Nabati – Vegan Restaurants Toronto
160 Baldwin St.
4.8⭐️⭐️⭐️⭐️ – 261 Google reviews – $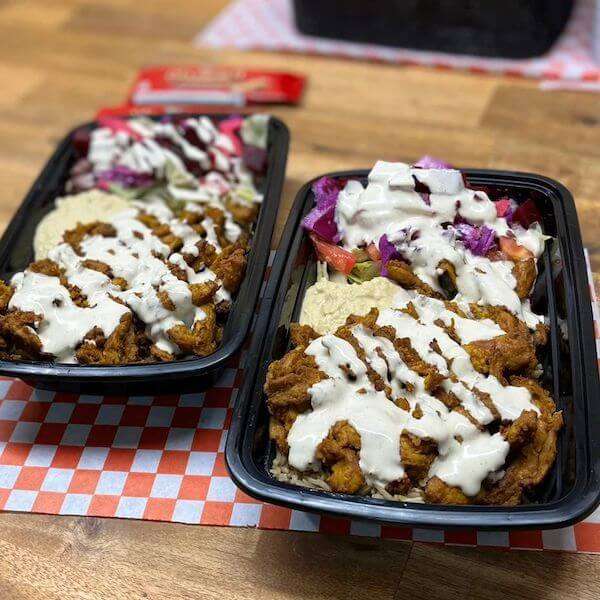 Located in Kensington Market, Eat Nabati serves, what they call, modern Middle Eastern Fare. It's amazing that Toronto seems to have a plant-based restaurant for every different type of cultural food from around the world (Not there yet but more and more every year). When I first learned that they served a menu with plant-based Egyptian Street food I knew I had to check them out. Their prices are very fair and they have vegan mille feuille!
F
Fresh – Vegan Restaurants Toronto
326 Bloor St W. – 4.3 ⭐️⭐️⭐️⭐️ – 1,423 Google reviews
147 Spadina Ave. – 4.4⭐️⭐️⭐️⭐️ – 1,719 Google reviews
894 Queen St W. – 4.2⭐️⭐️⭐️⭐️ – 1,086 Google reviews
101 Eglinton Ave E. – 4.2⭐️⭐️⭐️⭐️ – 1,268 Google reviews
47 Front St E. – 4.4⭐️⭐️⭐️⭐️ – 823 Google reviews
25 The West Mall – 5.0 ⭐️⭐️⭐️⭐️⭐️ – 2 Google reviews
320 Danforth Ave – 4.4 – ⭐️⭐️⭐️⭐️- 17 Google reviews
18 Banigan Dr. – Can't find reviews
Fresh is a long-standing plant-based restaurant in the Toronto Area (Also Hamilton now). I remember when they weren't 100% vegan but made the switch a while ago. They are the biggest chain of vegan restaurants I have found in the city with 7 locations. I have found that their food quality is quite good but I have yet to try their pizza but I have heard it is really good! Recently they were bought by Recipe Unlimited which owns places like The Keg and Swiss Chalet and many in the community have mixed emotions about this. Will this big change affect food quality? Will it make for many more locations to come in the future?
G
4134 Dundas St. W
4.9⭐️⭐️⭐️⭐️ – 63 Google reviews
Good Grains is focused on providing whole foods that are plant-based and good for your health. They have takeout fare which consists of Soups, salads, dips, dressings, mains (curry, stews, chili, etc.), and treats and beverages. I have yet to try this place out personally and their website doesn't have any prices so I'm not sure about affordability but they sound like a very wholesome and healthy option and they have very good reviews on Google.
638 Dundas St W.
4.4 ⭐️⭐️⭐️⭐️ – 491 Google reviews – $
I love Greens and have gone many many times over the years. My favourite dish is #40 which are these deep-fried tofu balls with minced veggies and mushrooms inside. So good! (It's been some time since I've been there so not 100% they still make them).
454 Bloor St W.
4.1 ⭐️⭐️⭐️⭐️ – 66 Google reviews – $$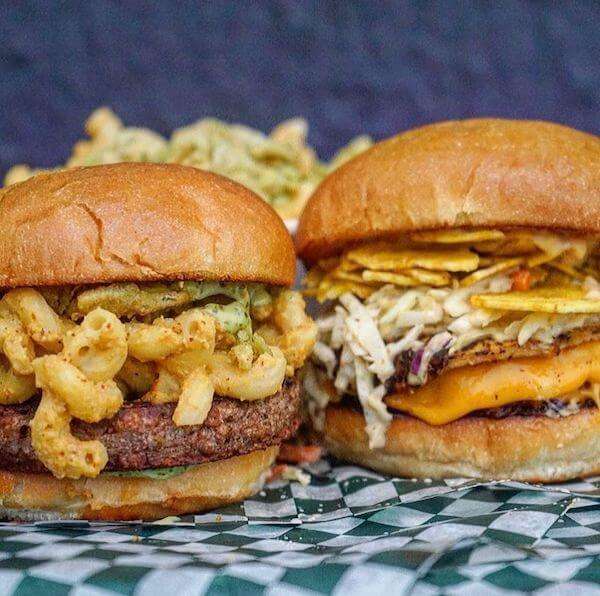 Located inside of Eva's Original (which has awesome vegan soft serve btw!) on Bloor, Guerrilla Burger offers up Beyond Meat patties for u7 different types of juicy burgers. They also have salad, chili, Mac and cheese (Jerk Mac also!), and a burger bowl. All of their dressings are made from scratch on-site and all orders made in-store for takeout receive 10% off.
H
291 Augusta Ave.
4.8 ⭐️⭐️⭐️⭐️ – 398 Google reviews –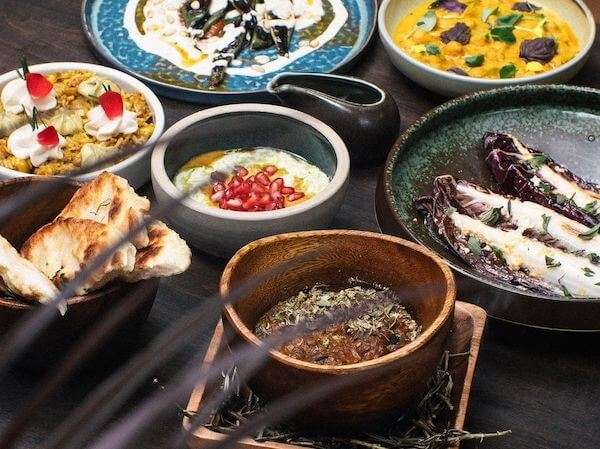 Hawker is one of several vegan restaurants Toronto has located in Kensington Market. They offer Small plate, plant-based, naturalist cuisine. There are small plates to choose from or a six-course tasting menu which is inspired by the à la carte menu. Each course is served and explained by the chef while you sit at the bar-style counter that overlooks their open kitchen.
Kensington Market is a haven for vegan spots! This place has been around since 2015 and offers Juices, Mylks, and plants.
705 College St.
4.8 ⭐️⭐️⭐️⭐️ – 19 Google reviews $$
Heal is a wellness food restaurant and they serve quick, fresh plant-based wellness food. Every superfood ingredient in their menu is carefully selected with intention & purpose, to help energize you. I used to get their smoothies in Hamilton whenever I was there and was addicted to the acai one.
1122 Queen St W.
4.5 ⭐️⭐️⭐️⭐️ – 907 Google reviews – $$
Great location for this vegan restaurant. Situated just west of Ossington they have a great patio that faces southwest, which makes it a great spot for grabbing a pint or glass of wine in the summer. For food, they have all-day brunch, smoothies, bowls, salads, burgers, and more!
1574 Bayview Ave.
4.8 ⭐️⭐️⭐️⭐️ – 306 Google reviews
This vegan restaurant in Toronto recently moved from Montreal and they offer vegan Indian food made with a balance of 5 flavours: Sweet, Salty, Sour, Bitter, and Spicy. Their blend of spices is made on-site, and they aim to balance and allow the body to function well with digestion and benefit from the medicinal properties of spices such as Turmeric (anti-inflammatory), Cumin (digestion), and Fenugreek (controlling lipids and glucides), as well as others.
382 College St.
4.5 ⭐️⭐️⭐️⭐️ – 779 Google reviews – $$
The Hogtown Vegan has been around for over a decade and they have gotten pretty good at providing vegan comfort food for their loyal following of customers. When I think of this place I think of pub food like their Phish 'n Chips, wings, nachos, Philly Cheesesteak, and poutine. They also have booze but if you're looking for a nice relaxing place to have a drink maybe visit their new location on Bloor listed below (Hunny).
1448 Dundas St W.
4.9 ⭐️⭐️⭐️⭐️ – 102 Google reviews –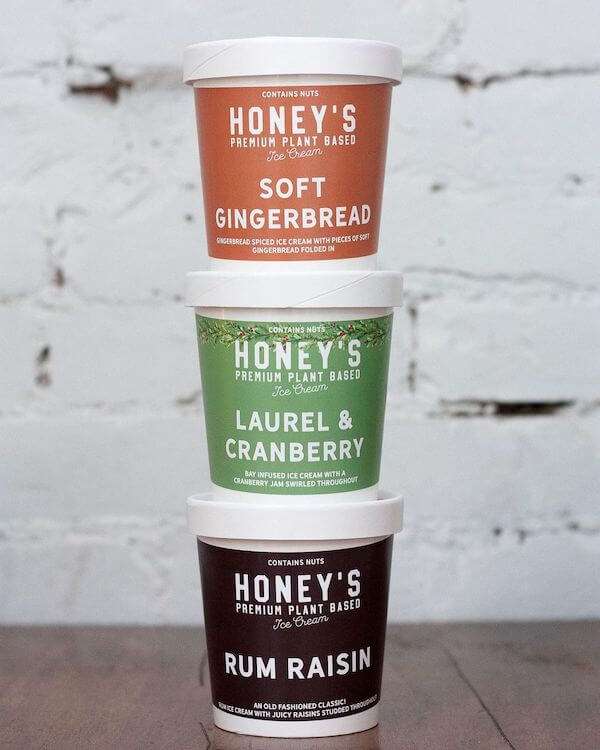 Honey's is a vegan ice cream shop in Little Portugal that rotates 12 flavours on a daily basis. They sell their ice cream by the tub, bar, sandwich, and pie. Also, the cashew cream used for their products is made in-house! The name of the place comes from the owner's rescue dog from Save Our Scruff which makes me like this place even more.
I
502 Queen St W.
5 ⭐️⭐️⭐️⭐️⭐️ – 4 Google reviews – $$
Il Vegano is the newest place to open up in the city. They offer a unique menu of not only plant-based Italian favorites but also daily dishes that are sure to satisfy your cravings. Their menu includes dishes such as zucchini fritti, lasagna, spaghetti, pizza, burgers, and more.
741 Pharmacy Ave
4.7 ⭐️⭐️⭐️⭐️ – 823 Google reviews – $$
This vegan restaurant in Scarborough opened in 2011 and its food is inspired by Caribbean Rastafarian cuisine. They have great reviews on Google and are located in Scarborough. They have 4 options of base for the daily meals along with a variety of stews and each meal comes with Spareribs BBQ. They also have some delicious-looking Entree Combos like the Bean Burger, Drumsticks, F'ish and Chips, and more. They have a lot of desserts to choose from that are really reasonable in price ($4.99 for cake). They also cater!
J
245 Greenwood Ave.
4.9 ⭐️⭐️⭐️⭐️ – 27 Google reviews – $$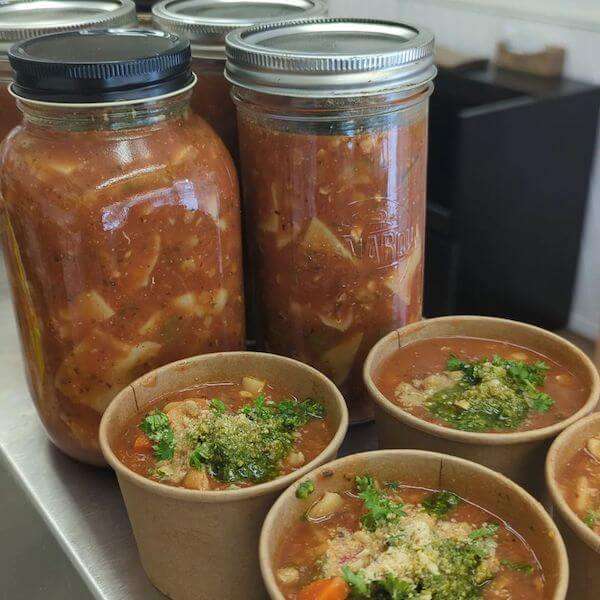 This is a great little deli in the East end that is one of my go-to's. They have a pantry with everything from frozen meals to cheese, to sandwiches as well as readymade meals and more. The croissants you can get here are sooo good. They're made with Miyoko's Butter (My favourite kind) and they don't contain any palm oil. I particularly like their breakfast sandwiches and it's just great to have shops like these that cover so many of the things you need while living plant-based in the city.
K
2313 Yonge St.
83 Critchley Lane
140 Spadina Ave.
100 King St. W.
181 Bay St.
150 King St. W.
⭐️⭐️⭐️⭐️
K&K makes almost everything in-house from scratch on a daily basis. Their menu varies depending on location but most offer smoothies, blows, burgers, breakfast, etc. A nice touch is that they offer a 35¢ discount to anyone supplying their own container and their kitchens produce almost nothing that enters a landfill: the little waste produced is either composted or recycled.
L
588 College St.
4.7 ⭐️⭐️⭐️⭐️ – 175 Google reviews – $$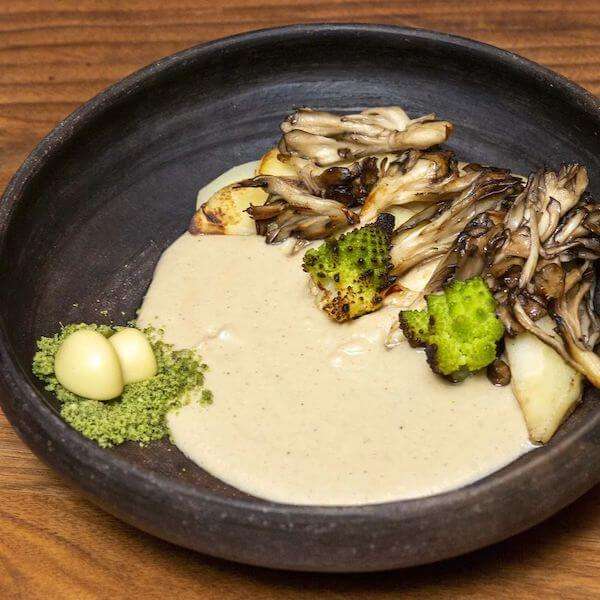 Another one of the vegan restaurants Toronto has is La Bartola and they have amazing authentic Mexican food. Chef Ivan Castro uses simple, fresh, and high-quality local & Mexican ingredients to craft delicious and thoughtful food. The menu offers 4 starters, 4 mains, and 4 different types of tacos. I like short menus because you know each dish is fresh and made with care. If you are looking for a good mole then this place definitely has you covered!
1450 Danforth Ave.
4.8 ⭐️⭐️⭐️⭐️ – 158 reviews – $
One of my favourite spots in the city. Food is amazing, the place looks great and the smell of coffee is the icing on the cake. I also get the same thing: the combo that comes with a portion of every dish. They also offer a variety of other dishes that are both healthy and delicious. La Vegan is known for its friendly staff and cozy atmosphere.
Lovebird – Vegan Restaurants Toronto
1277 Queen St W.
4.7 ⭐️⭐️⭐️⭐️ – 42 Google reviews – $$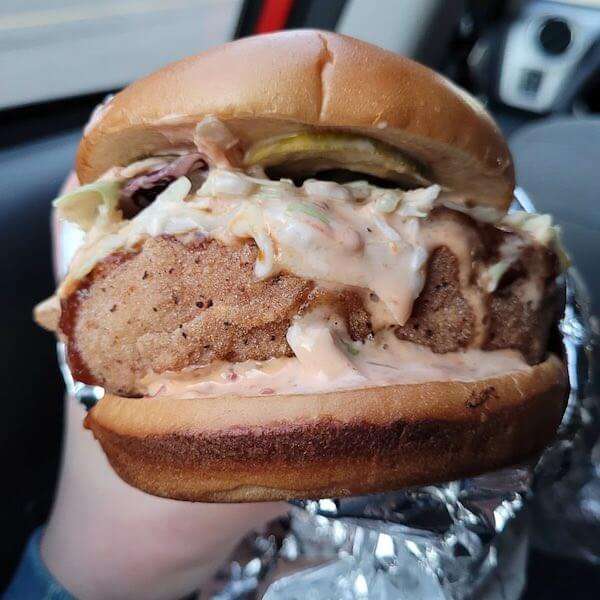 The fried chicken from Lovbird looks so so good and I've tried twice to go but always seem to go there when they're closed. I have heard they make amazing stuff and are now open 6 days a week so this place is a must-visit.
M
1556 Bloor St W.
4.5 ⭐️⭐️⭐️⭐️ – 169 Google reviews – $$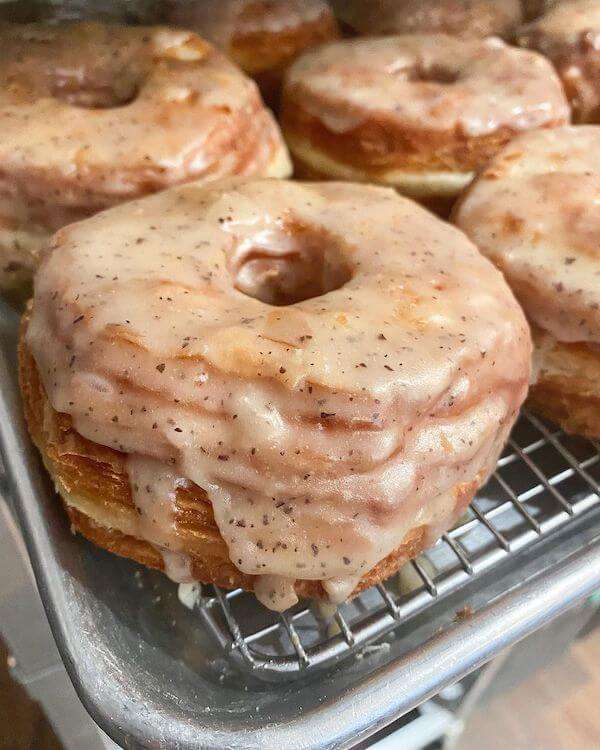 They have vegan cronuts….do I need to say anything else? They also have filled, fritters, and regular as well. Just down the street from Bloomers, it's not fair one small section of the city has such amazing donut places!
1635 Lawrence Ave W.
4.6 ⭐️⭐️⭐️⭐️ – 94 Google reviews –
Just found out about this place and they don't have a website so it's hard to find info. From word of mouth, they sound pretty good so I will check it out and report back. Be sure to follow my Instagram for the most up-to-date reviews.
O
Odd Burger – Vegan Restaurants Toronto
492 College St.
4.6 ⭐️⭐️⭐️⭐️ – 324 Google reviews –
Odd Burger (formerly Globally Local) is a vegan fast food joint in Little Italy. They offer all of the regulars of say a Wendy's or McDonald's but obviously all vegan. They also have vegan soft serve! A new location will be opening up at 731 Broadview Ave at some point in the future.
6 Markham St.
4.8 ⭐️⭐️⭐️⭐️ – 128 Google reviews – $$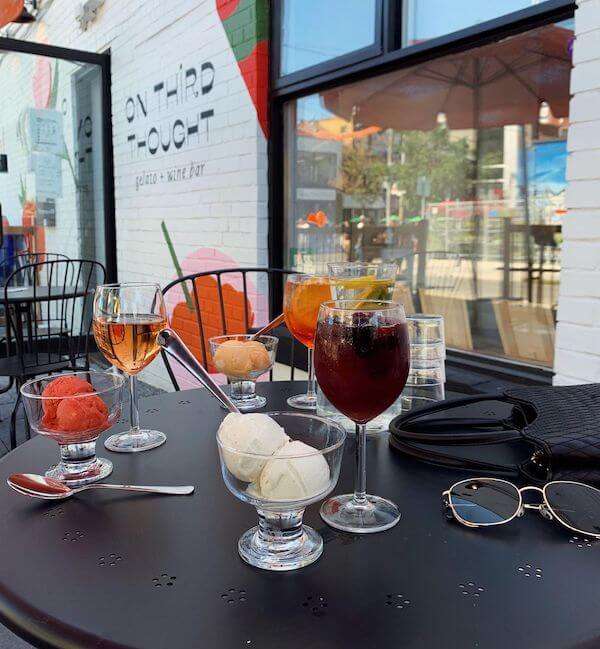 Vegan and allergen-conscious gelato place! (also a wine bar)…
Their gelato always excludes nuts, dairy, gluten, eggs, soy, and sesame. Their flavours rotate daily but they usually have about 13 to choose from. Oh, they have a patio and they also offer the option to rent out a gelato cart for a special event, like a wedding, etc.
Osteria Du – Vegan Restaurants Toronto
*Closing in September 2023*
536 Queen St W.
4.8 ⭐️⭐️⭐️⭐️ – 178 Google reviews $$
Osteria Du is a plant-based Italian restaurant that offers a prix fixe 4-course menu at $60 ($50 on weekdays) with optional wine pairing for an additional $40. The menu changes regularly with the availability of seasonal ingredients and the creativity of their team of chefs. The atmosphere is clean, sophisticated, floral, and modern. It's brought to you by Awai Hospitality Group (Avelo, Pizzeria Du, M!LK)
P
424 Queen St W.
4.6 ⭐️⭐️⭐️⭐️ – 334 Google reviews – $$
Parka is like a fast food place with a twist, the twist being a focus on our favourite comfort food classics and reinventing them to be wholesome yet indulgent and 100% plant-based. They also have a commitment to sustainability which is really great. The menu: bowls/salads, burgers/sandwiches, wraps, pasta, mac and cheese, and of course fries.
180 Queen St W.
4.5 ⭐️⭐️⭐️⭐️ – 1,265 Google reviews – $$
Planta Queen is a vegan restaurant in downtown Toronto that offers up delicious Asian food in a beautiful atmosphere. I had a tofu stir-fry dish here a couple of years back and I can't remember the name but it was one of the best dishes I have ever had (sadly not on the menu anymore). But not to worry they have plenty of more dishes to satisfy you with and they often have specials on particular nights like Disco and Dumpling Friday Nights. Did I mention they have Brunch?
1221 Bay St.
4.3 ⭐️⭐️⭐️⭐️ – 2,477 Google reviews – $$$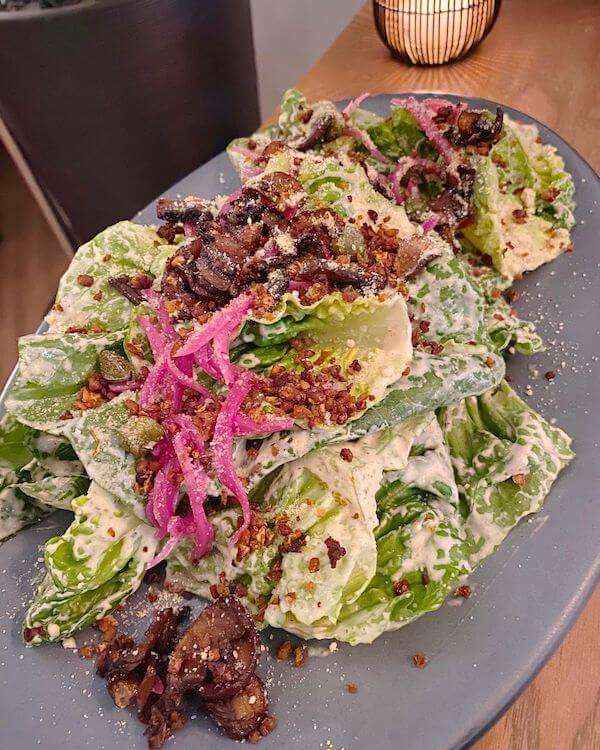 I find that this Planta has kind of a mix of the Cocina (Sadly now closed) and Queen locations because they offer things like a burger and sushi. Additionally, they also have choices like lasagne, pizza, pate, and much more.
998 Queen St E.
5.0 ⭐️⭐️⭐️⭐️⭐️ – 22 Google reviews -$$
Plant Lyfe is another one of my favourite spots in the city. It is run by really great and friendly people and you are always greeted with a smile. And their food is always fresh and delicious. I go there mainly for their coffee and their bowls (you have to try the Dragon Bowl pictured above) but they have a lot more. They also run a meditation studio just above the cafe and also have a line of sustainable products like cutlery, bowls, bags, clothing, etc.
*Closing in September 2023*
536 Queen St W.
4.7 ⭐️⭐️⭐️⭐️ – 140 Google reviews – $$
This place is run by the same people as Avelo and Austeria Du. Originally they were going to open a plant-based Italian restaurant called Vitalia but before they could the chef suddenly passed away. They didn't feel right about opening without him but decided to honor him by opening up Pizzeria Du. They have 7 pies to choose from as well as salads, pizza puffs, meatball subs, and other appetizers. They also sell pizza kits for $15 which are amazing! At this same location, there is also M!lk Vegan Gelato and Osteria Du (Italian Restaurant).
R
195 Carlton St
4.7 ⭐️⭐️⭐️⭐️ – 141 Google reviews – $$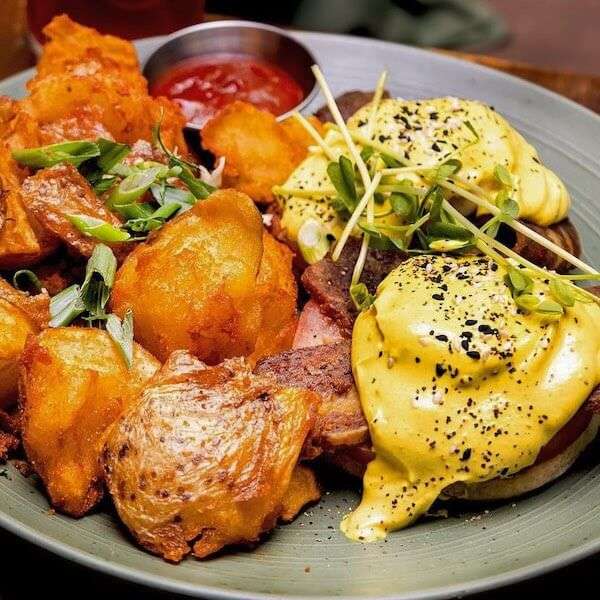 Revelstoke Cafe is a warm and welcoming plant-based restaurant originally based in Peterborough. The cafe has recently opened its doors in Toronto and has been receiving lots of positive reviews The cafe has an amazing selection of vegan breakfast/brunch items. The tofu scramble and seitan bacon are really great and they are known for their benny's. Another review on Yelp states that the food and service were great. It's run by a totally vegan family and has been and definitely a must-visit.
Rosalinda – Vegan Restaurants Toronto
133 Richmond St W.
4.3 ⭐️⭐️⭐️⭐️ – 1,149 Google reviews – $$$
Another amazing Mexican food place that is in my top 5 favourite restaurants is Rosalinda. They closed down for a little over the pandemic but opened back up in November. They offer snacks, salads, tacos, a burger, bowls, plates, and desserts. Really, you can order anything and know that it will be good. Really nice and comfortable atmosphere also.
S
6 St Andrew St.
4.7 ⭐️⭐️⭐️⭐️ – 865 Google reviews – $$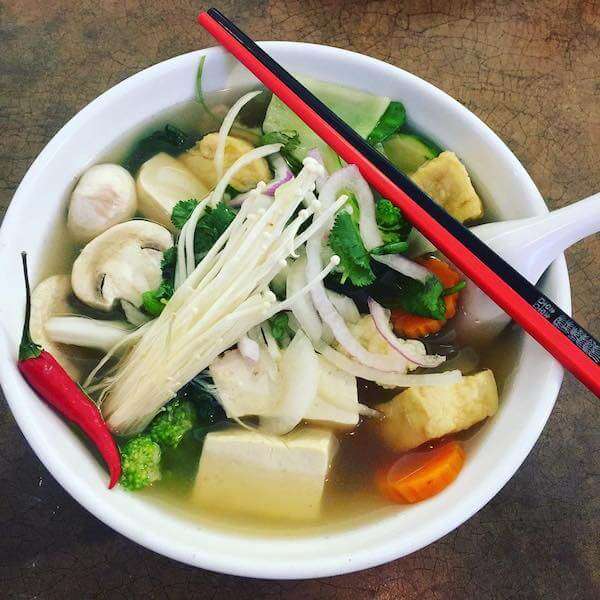 The only vegan Vietnamese place I found in Toronto and they have a lot of tasty meals. I like their pho and rice noodles dishes but there are so many to choose from that you will have no issues finding something you're in the mood for.
1326 Gerrard St. E.
4.8 ⭐️⭐️⭐️⭐️ – 29 Google reviews – $$
At this café, everything is made in-house and they incorporate as many organic and locally sourced ingredients as they can (they even grow some of their food on their rooftop garden). Their menu consists of mains like the Cheesy Enchilada, Breakfast Burrito, Maple Tahini Harvest Bowl, etc. They also have smaller app-like items (patties😋) smoothies and drinks.
476 Roncesvalles Ave.
1171 Dundas St. W.
5.0 ⭐️⭐️⭐️⭐️⭐️ – 33 Google reviews – $$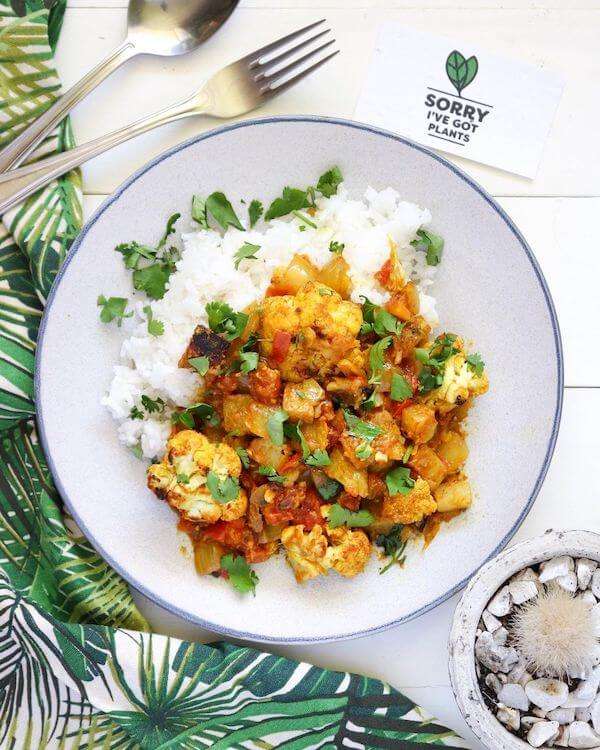 SIGP is a great low-waste meal kit delivery service run out of their location on Roncesvalles. Each week you can choose from 4 possible options and it works out to about $10 per portion which is pretty standard for delivery kits. They are shipped in reusable bags and the food is really great. The recipes can be made in 20 min or less which makes it stand out from some of the other companies. You can also add things from their pantry and they have a lot to choose from including tons of local vegan companies. They also offer grab-and-go bowls and sandwiches from their storefront.
*they have opened a new location on Dundas ST.*
Lastly, they have a referral and rewards club. If you refer someone you get $15 and the person signing up also gets $15 so it's a win-win. If you are thinking of making an order use my promo and received $15: http://rwrd.io/b20n9br
471 Church St.
4.9 ⭐️⭐️⭐️⭐️ – 189 Google reviews – $$
Soy Boys is a plant-based fast food joint located in the village of Toronto. They offer a variety of vegan burgers and chicken burgers that taste great. Their burgers are juicy and flavourful, and their chicken is well-seasoned and crispy. Soy Boys also offers fries, onion rings, and oat soft serve. The icing on the cake is that for every burger purchased, one tree is planted through the Eden Reforestation project.
T
487 Bloor St W.
4.7 ⭐️⭐️⭐️⭐️ – 89 Google reviews – $$
Finally, Toronto has a plant-based sushi restaurant! I have been waiting for so long and now it is a reality. They have such a large menu and you can order things like "salmon" sushi that really looks like and has such a similar texture to actual salmon. They also have items like shrimp tempura, beef skewers, sushi combos, and also some Thai dishes.
279 Roncesvalles Ave. 4.3 ⭐️⭐️⭐️⭐️ – 228 Google reviews – $$
1170 Queen W. – (June 25 '23)
The Goods has meal kits, prepared food, and a pantry at their shop. They offer salad/bowls, breakfast, sandwiches, mung cakes, etc.
More Vegan Restaurants Toronto!
257 Augusta Ave.
4.5 ⭐️⭐️⭐️⭐️ – 186 Google reviews – $$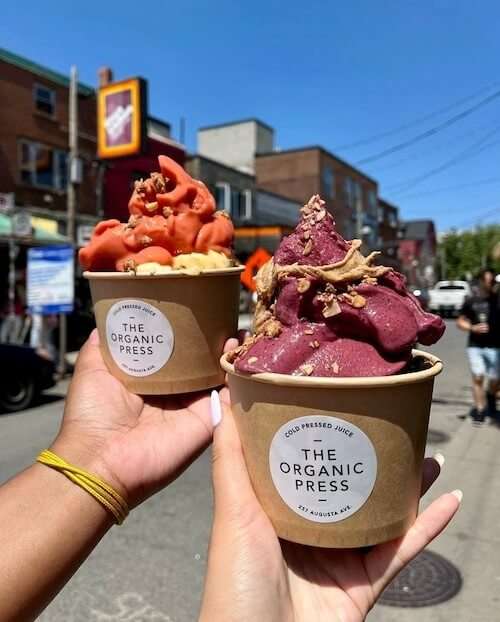 2188 Queen St E.
4.5 ⭐️⭐️⭐️⭐️ – 423 Google reviews – $$
Tori's Bakeshop first opened its doors back in 2012 and they were Toronto's first plant-based cafe. They have baked goods made daily with natural, organic, seasonal ingredients, and sourced as locally as possible. I love that their treats are all organic and they are also delicious. I have been here many times and have also ordered a few things in advance like pumpkin pie for Thanksgiving and Butter Tarts! I highly recommend this place.
Tsuchi Cafe – Vegan Restaurants Toronto
688 College St.
4.8 ⭐️⭐️⭐️⭐️ – 93 Google reviews – $$
Now for one of my favourite vegan restaurants in Toronto; a Japanese plant-based cafe selling comfort food, desserts, and good vibes. Dishes include things like 12 Spice "Beef" Curry & Rice, Karage, Teriyaki Karaage Sandwich, drinks, packaged meals, and retail items. This place is amazing! You have to try their Karaage (Fried Chicken). Seriously, I have been many times and have not had one thing I didn't think was really good.
1410 Victoria Park Ave
4.2 ⭐️⭐️⭐️⭐️ – 497 Google reviews – ?
Toronto's 1st fully Vegan Indian Restaurant with an extensive menu. There are lots of great Indian places that have almost the whole menu that is vegan or can be made to be but I find that there are a lot of dishes that contain ghee and it's amazing to have a 100% plant-based Indian resto to go to.
V
1221 Weston Rd.
4.8 ⭐️⭐️⭐️⭐️ – 405 Google reviews – ?
At V's they aim to provide food that is both delicious & nutritious. I just learned about this place and I can't find much info about them but I will be sure to visit and report back.
1312 Queen St W.
4.6 ⭐️⭐️⭐️⭐️ – 250 Google reviews – $$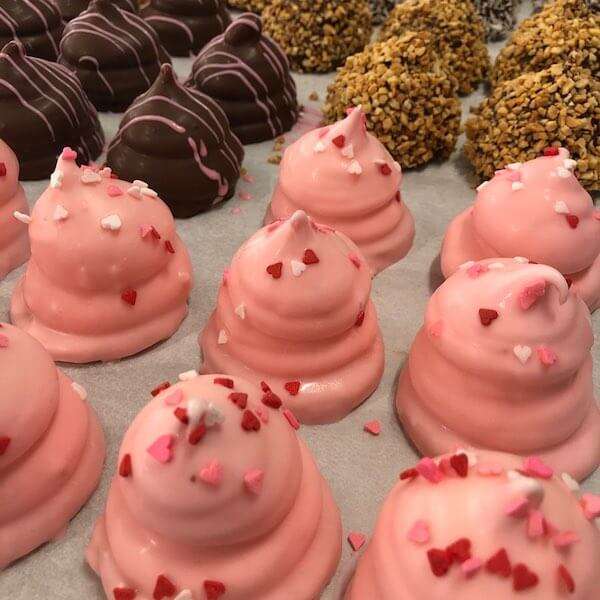 Danish Bakery is a 100% plant-based bakery and café offering cupcakes, cakes, pastries, coffee, tea, lunch items, and an ice cream sundae menu. They have 12 different full cakes you can order! (No longer a member of Vegandale)
Vegan I Thali – Vegan Restaurants Toronto
2768 Danforth Ave.
4.7 ⭐️⭐️⭐️⭐️ – 140 Google reviews – $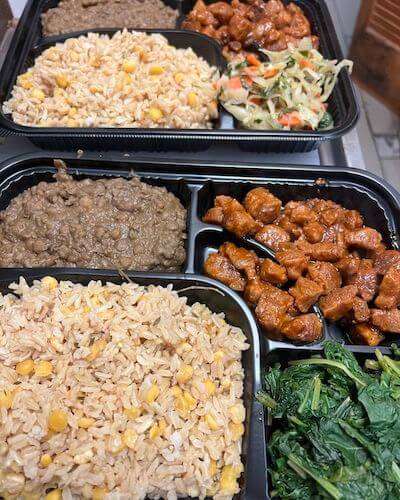 This place offers a wide selection of Afro-Caribbean Vegan dishes such as Injera, Jerk & BBQ Tofu, Rice and Peas, Rasta Pasta, Curry Chickpeas, etc. They also have groceries available for purchase.
160 Baldwin St #3
4.9 ⭐️⭐️⭐️⭐️ – 331 Google reviews – $$
Veggie D'Light is a Vegan Caribbean take-out & catering shop in the heart of Kensington Market. They have made-to-order items like "The Meal" that come with vegan proteins on a bed of basmati brown rice with flax & quinoa, topped with a salad of organic steamed & fresh veggies. They also offer soups, roti's, etc. They also sell packaged items in their shop and there is a Vegan Meal Plan that you can try out.
Vegwood – Vegan Restaurants Toronto
540 Oakwood Ave.
4.7 ⭐️⭐️⭐️⭐️ – 35 Google reviews – ?
Aiming to prove that vegan food can be tasty and affordable Vegwood is set on being the next entertainment hub of Oakwood Village. This environmentally conscious shop offers a smallish menu but that means more effort is put into the items they serve. It consists of a burger, tofu ribs, unchicken & jerk unchicken salads/sandwiches, soups, and chili. Oh, and they also have Saturday breakfast (normally but because of covid it is suspended at the moment) and a loyalty card.
768 Wilson Ave.
4.9 ⭐️⭐️⭐️⭐️ – 340 reviews – $$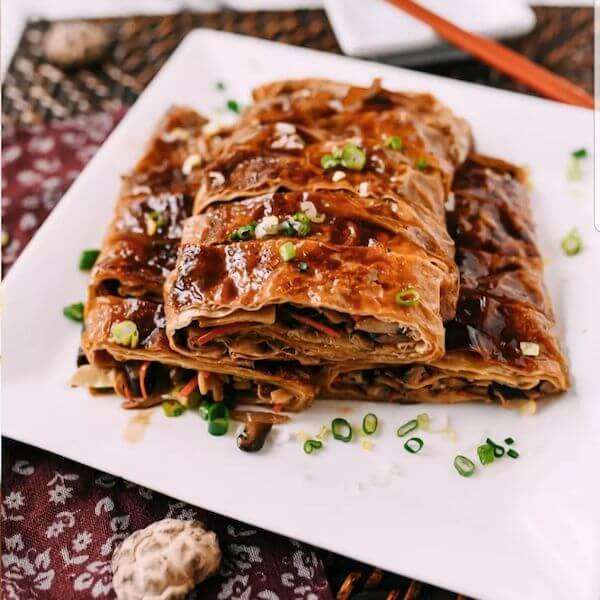 Viet Chay Vegan is a Vietnamese restaurant and they offer a variety of vegan dishes that are both delicious and healthy. Their menu includes vegan pho, spring rolls, and banh mi sandwiches. They also have vegan desserts such as coconut ice cream and mango sticky rice.
360 Broadview Ave.
4.9 ⭐️⭐️⭐️⭐️ – 57 Google reviews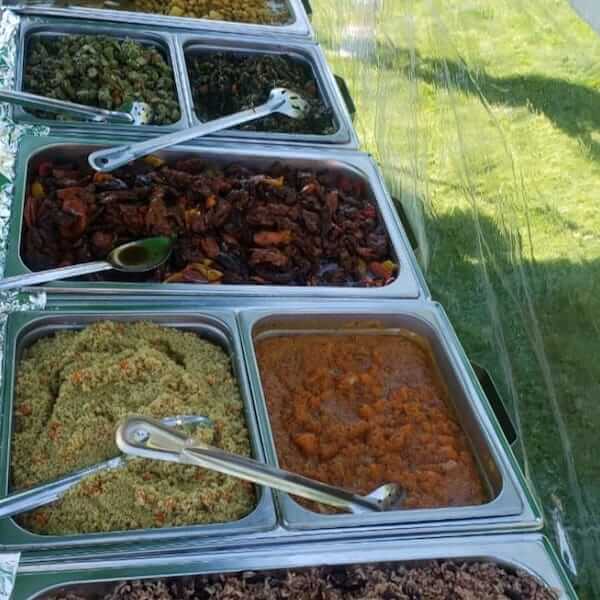 Vital Life Vegan is a Caribbean-influenced restaurant that offers vegan take-out and a juice bar. There is also a small patio out front for sitting down. The atmosphere of the hospitality of Vital-Life Vegan highly depends on the staff, which is friendly here. Delicious meals at democratic prices are what's on the menu here.
Y
705 College St.
4.7 ⭐️⭐️⭐️⭐️ – 296 Google reviews – $$
** Temporarily Closed** Yamchops is a plant-based butcher shop that offers so many things it's hard to summarize into one paragraph. I have been here so many times I can't remember when I started going. They have a deli where you can buy fresh burgers and pre made meals. Their CHICK*N SCHNITZEL is amazing! They also have a large pantry where you can pick up cheese, frozen goods, holiday items and so much more. They had another location in Stakt Market but sadly they closed over the pandemic.
How many vegan restaurants are there in Toronto?
61 as of June 2023
Is Toronto vegan-friendly?
Yes, absolutely! There are 61 restaurants that are entirely vegan and it is almost hard to find any restaurant that doesn't have vegan options. Aside from where to eat, Toronto is also a centre for animal welfare groups and legal rights advocacies within Canada.