I love pizza and I made this post so you can easily find the best vegan pizza Toronto has.

When I started to cut dairy products from my diet pizza was one of the hardest things to say goodbye to.

But now with all of the vegan pizza options available, I don't even miss the traditional style anymore! And I think as time goes on there will be better and better cheese substitutes coming out which will make things even better. Beyond Cheese??
I will share my favourite vegan pizza down below but first, let's get to our list of the Best Vegan Pizza Toronto.
* I document each place I visit on my Instagram Page so you can follow me there for the most up-to-date info on all things vegan in Toronto.
All Vegan Pizza Places in Toronto
We used to have more all-vegan pizza places but sadly they closed down. Not to fret though because there are still a couple of vegan places that offer great pizzas:
536 Queen St. W.
Pizzeria Du is a part of the Awai Hospitality Group and they are a vegan pizzeria in Toronto that has been serving vegan pizzas since 2018. They make several varieties to choose from as well as offering meatball subs and garlic knots. Pizzeria Du serves up plant-based cheese made in-house and has a gluten-free crust option for those with more sensitive stomachs. They have six varieties of vegan pizza on their menu.
| | |
| --- | --- |
| Tuesday | Closed |
| Wednesday | 4:30–8:30 p.m. |
| Thursday | 4:30–8:30 p.m. |
| Friday | 4:30–9 p.m. |
| Saturday | 4:30–9 p.m. |
| Sunday | 4:30–8:30 p.m. |
| Monday | Closed |
Menu/Order Online
Apps: localeats.to
Phone: (647) 655-7451
1221 Bay St (Near Bloor)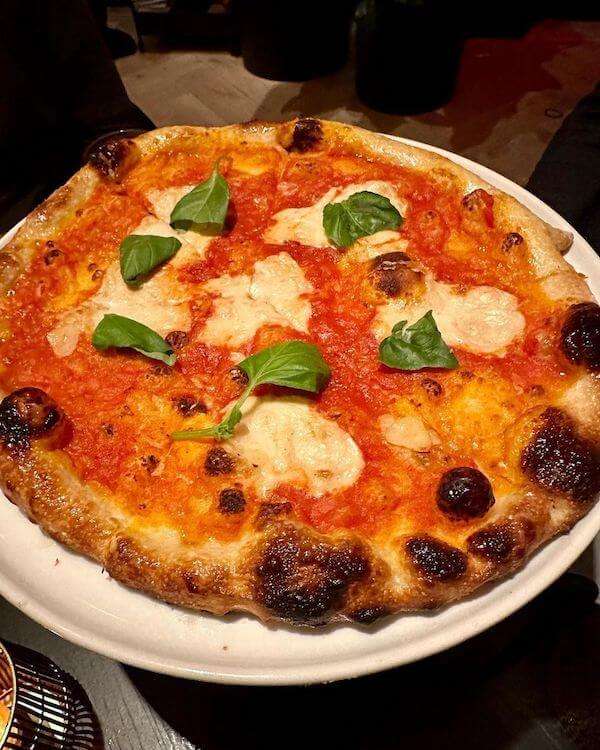 When Planta opened its doors it said that it wanted to fill a void in the market of upscale, full-service, plant-based dining options with environmental sustainability in mind and they have definitely delivered. And their pizzas are…..bomb! They have 4 to choose from but normally have monthly exclusives that can include an extra pie. Sadly they don't deliver but with an upscale place like this, it's to be expected. 
*GF option available.
| | |
| --- | --- |
| Monday | 11:30a.m.–10p.m. |
| Tuesday | 11:30a.m.–10p.m. |
| Wednesday | 11:30a.m.–10p.m. |
| Thursday | 11:30a.m.–10p.m. |
| Friday | 11:30a.m.–11p.m. |
| Saturday | 11:30a.m.–11p.m. |
| Sunday | 10:30a.m.–10p.m. |

Menu: Planta's Website
Reservations/Ordering: opentable.ca; Ritual
Phone: (647) 348-7000
Vegan Pizza Toronto – Vegan Options
We can wish all restaurants would go vegan one day but for now, it's still great to see that more and more places are providing vegan options. And they aren't just a token tribute, these places make seriously delicious plant-based pizzas!
386 Bloor St. W.
647-748-2333
They have their vegan options clearly labeled on the menu, which is great (3 to choose from). This place is nice because they have an open kitchen with a huge pizza oven right in the middle so you can watch as your pie is made. They make Neapolitan pizza which, I learned, naturally has very little gluten in it.
| | |
| --- | --- |
| Wednesday | 12–11 p.m. |
| Thursday | 12–11 p.m. |
| Friday | 12–11 p.m. |
| Saturday | 12–11 p.m. |
| Sunday | 12–10 p.m. |
| Monday | 4–10 p.m. |
| Tuesday | 4–10 p.m. |
Order: Skip The Dishes
650 Queen St W (near Bathurst)
1181 Dundas St W (near Ossington – Inside Get Well)
469 Church St (near Wellesley)
229 Geary Ave (near Dufferin)
511 Rogers Rd (near Old Weston Rd)
Various hours and ordering apps. Able to order directly from their website: northofbrooklyn.com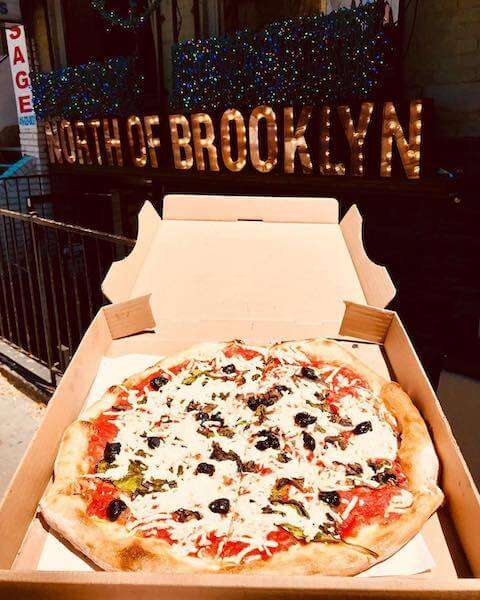 You wouldn't know it by looking at their menu but they offer a build-your-own pizza and you can have vegan cheese instead of regular. I get the black olives and mushrooms and it is incredible!
545 King St W (between Bathurst and Spadina)
155 University Ave (near Adelaide)
221 Ossington Ave (near Dundas)
550 Danforth Ave (near Pape)
Various hours and orders are only offered from Danforth and King/Portland from Foodora.ca
They only offer one vegan pizza (marinara) off the menu but you can substitute for their vegan cheese on other pizzas for $3 extra and it's GMO and nut-free.
576 Danforth Ave (near Pape)
This is not a vegan resto but they have over 20 plant-based menu items….including pizza of course, for which they have 9 to choose from. They also offer multigrain crust or GF for the mini size. What's also nice about Il Fornello's is that they list the ingredients of their vegan dishes and spreads. Plus they offer 8 different kinds of vegan cheese! Some include Ricotta, Cheddar, and Feta, yum. All of this makes this place a serious contender for the best vegan pizza in Toronto.
Order:ubereats.com, foodora.ca
899 Bloor St W (near Ossington)
1480 Bathurst St (near St. Clair)
2243 Dundas St W (near Bloor)
Various hours and ordering apps. (Can order directly from the website)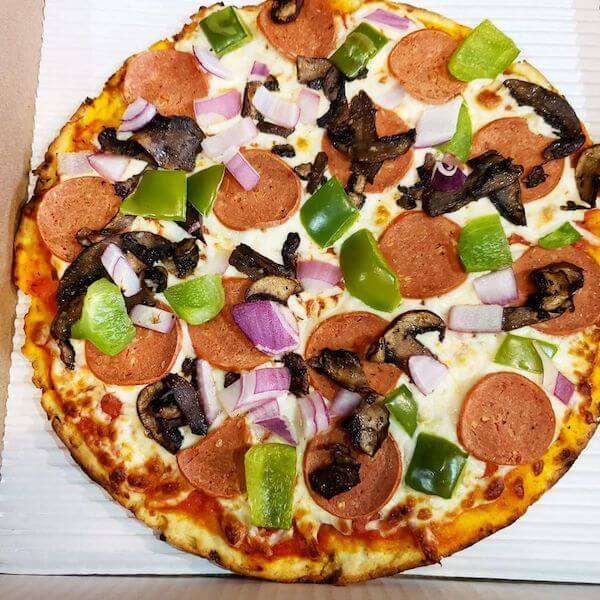 These people care about their pizza and they also care about vegans because they have 9 pies available to order. It's great to see places with so many delicious options for plant-based people these days. They also offer GF for 12" size. I will be trying their Wild Funghi pizza soon.
521 Parliament St (near Carlton st.)

Salt & Tobacco also only have one vegan option but it is all you really need from this place because they do such a great job. It comes with tomato sauce, vegan mozzarella, vegan Italian sausage, green peppers, mushrooms, and onions.
| | |
| --- | --- |
| Monday | 11:30a.m.–9p.m. |
| Tuesday | 11:30a.m.–9p.m. |
| Wednesday | 11:30a.m.–9p.m. |
| Thursday | 11:30a.m.–9p.m. |
| Friday | 11:30a.m.–9:30p.m. |
| Saturday | 11:30a.m.–9:30p.m. |
| Sunday | 11:30a.m.–9p.m. |

Order: foodora.ca, ubereats.com
Phone: (647) 348-2993
10 Dundas St E. (near Yonge)
150 John St (near Richmond)
4841 Yonge St (near Sheppard)
Various hours
Not only Lebron James is a fan of this place that can make your pizza at blinding speed. They don't have any pre-set vegan pizzas but you can build your own with vegan cheese and a ton of toppings to choose from.
Order: skipthedishes.com,  ubereats.com (various depending on location)
1555 Dundas St. E (near Leslie)
199 Bay St (near King)
88 Ossington Ave (near Argyle)
Various hours and ordering apps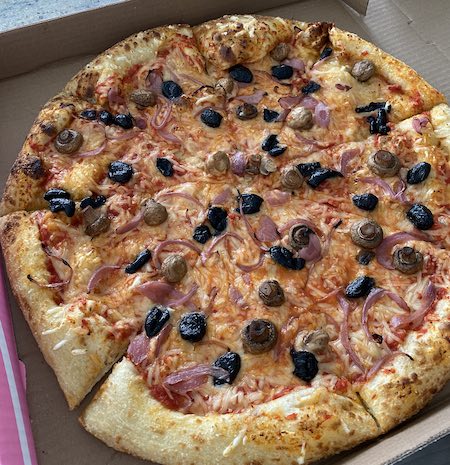 There aren't any preset vegan pizzas at Blondie's but they do have vegetarian options and you can substitute for cashew cheese for $6 extra for the large. Now, this is pricey but worth it because Blondie's has some of the best crust out there.
The others…
Now I, personally, would choose any of the options above over the ones I will list below but sometimes there is no other choice so it is good to know which places have your vegan back.
Pizza Pizza – Dairy-free cheese at no extra cost
Pizza Nova – Dairy-free cheese at no extra cost
Mama's Pizza – 6 vegan pizzas to choose from
Pizza Iolo – 3 vegan pizzas to choose from
Panago – 5 vegan pizzas to choose from
My Favourite Plant-Based Pizza Restaurant
Okay, so this is tough…..really tough. Of course, taste in pizza is very subjective but if I had to choose a winner…..if I really had to…..I would choose Blondies Pizza. It really pains me that I have to choose a non-vegan restaurant for this but I just have to because Blondies Makes the best vegan pizza. The crust is perfect and the cheese is just so damn good. I still haven't figured out what kind they use yet but I suspect that they make their own. One area of that Blondies Pizza could improve on, in my opinion, are the toppings. Where is the vegan meat option?!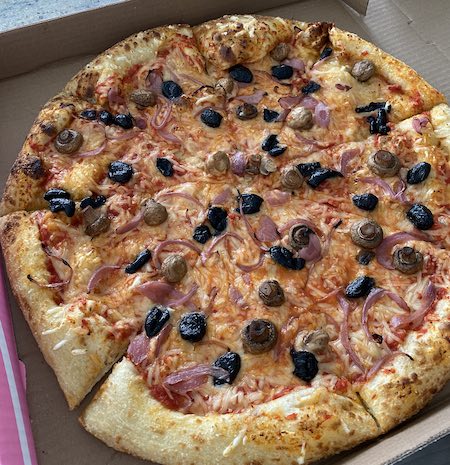 I hope you found this informative. If I have overlooked a place that you think deserves a spot on this list please leave a comment below!

Does Pizza Hut Canada have vegan pizza?
Unfortunately, no. They offer beyond meat and you can get no cheese but they do not offer vegan cheese options.
Does Domino's Canada have vegan cheese?
Unfortunately, Domino's Canada does not have a vegan cheese option at this time.
Who makes the best vegan pizza in Toronto?
My choice is Pizzeria Du for a 100% vegan place and Blondies for non-vegan places.