Since going plant-based it's been tough to find good vegan sandwiches in Toronto. It has gotten better in recent months and that is in large part due to Stefano's Sandwiches, located in little Portugal on Dundas St. W.
In particular, I am going to go on record and say that they make THE BEST vegan corned beef sandwich in the city!
Why is Stefano's Corned Beef the Best Vegan Sandwich in Toronto?
The Bread
I love Brodflour bakery because they make delicious sourdough bread and I was so happy to learn that Stefano's uses their bread for their corned beef sandwich. Brodflour is a local shop located in Liberty Village. They source their grain in Canada and then mill it in their certified organic stone mill located right in shop. Having the mill on-site makes for less processing, which in turn keeps more vitamins and minerals in the bread. To finish it all off they bake each loaf fresh every day.
The Cheese
Stefano's Corned Beef vegan sandwich uses Violife smoked provolone. Admittedly Violife isn't my favorite when it comes to vegan cheeses but on this sandwich, it really works well. One very good thing about the Violife company is that they don't use preservatives or GMO's and have short ingredient lists. For example, these are the ingredients for their provolone: Water, Coconut oil, Modified potato starch, Modified corn starch, Potato starch, Sea salt, Smoke flavour, Olive extract, Carotene.
The Vegan Sandwich made with Unreal Beef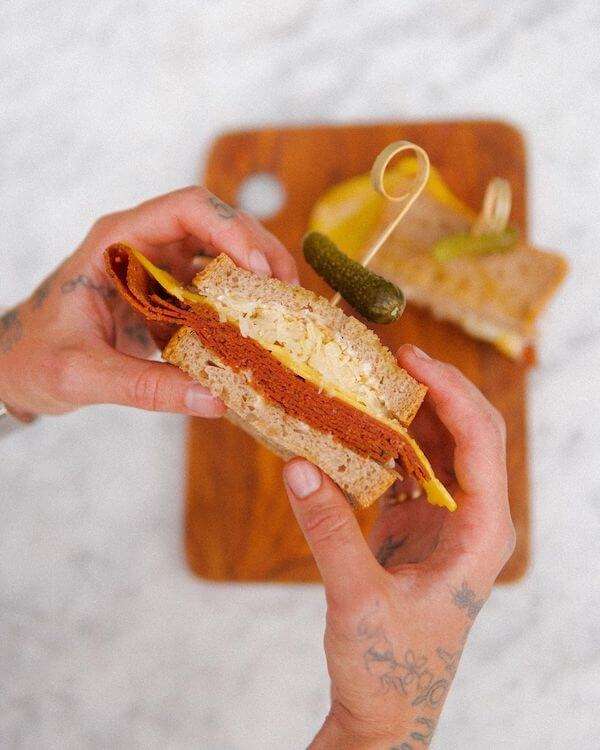 The corned beef is made by Unreal Deli which is a company that has a long history in the New York deli scene. They sell some amazing vegan deli meats and they were even featured on Shark Tank. As of right now in Toronto, you can only find their products at certain Fresh Restaurants and at Stefano's.
FYI Regarding Stefano's
Stefano's is located at 1214 Dundas St. W. which is the same address as Gia Restaurant (which also offers amazing vegan food). Currently, they are only open on Sundays until the shop next door to Gia is completed (this summer) so mark a Sunday on your calendar and check out this awesome sandwich.
Stefano's Other Vegan Sandwiches
I should also add that they offer other vegan sandwiches that are amazing as well: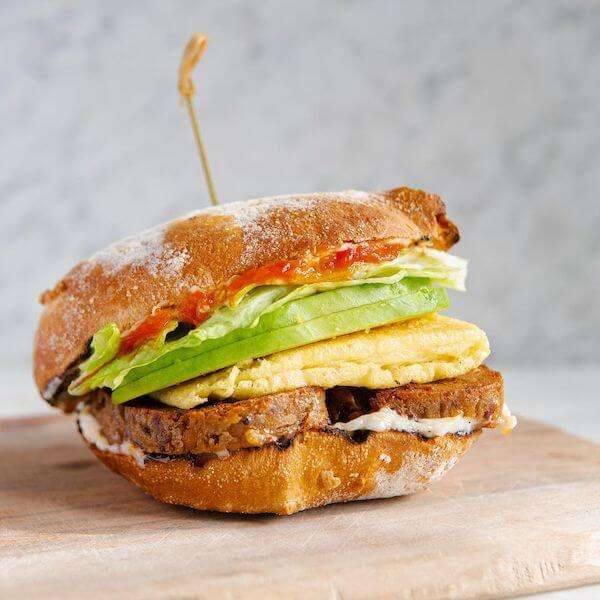 Their vegan breakfast sandwich with plant-based egg, pinto bean sausage, avocado, lettuce, and spicy vegan mayo on a certified organic Canadian hard wheat flour ciabatta bun.
The classic Fried Chicken vegan sandwich that's coated in a top-secret spice blend, and accompanied with preserved chilies, spicy mayo, iceberg lettuce, and kosher dill pickles.
And last, but definitely not least, the Filet O Fish that's made with my favourite Gardein fish sticks, vegan tartar sauce, iceberg lettuce, on a Blackbird sesame bun.