I recently tried some Maple Fakin' Bacon that is Cherry Wood smoked, layered seitan marinated in smoked Quebecois maple syrup….and it was amazing. I had never tried something like this before and it won't be the last. I layered some of the vegan bacon on a homemade breakfast sandwich and it just made it complete.
This vegan bacon is made by Sausage Party which is a women-owned vegan company based right here in Toronto. I remember first seeing them at the Vegetarian Food Festival a few summers back and actually bought a pack of their sausages. That was a while ago so I decided to grab some more of them but was excited to find out they offer more than just sausages.
Such as…
WHOLE VEGAN SALAMI
This vegan salami is coated with toasted fennel and fresh black peppercorns. It even comes with an authentic salami net.
STUFFED SEITAN ROAST 
Made with herbs and spices and stuffed with mushroom and onion sourdough stuffing.
CHERRY SMOKED MAPLE FAKIN' VEGAN BACON
As stated above you gotta try it this bacon!
VEGAN FENNEL & ALE SAUSAGE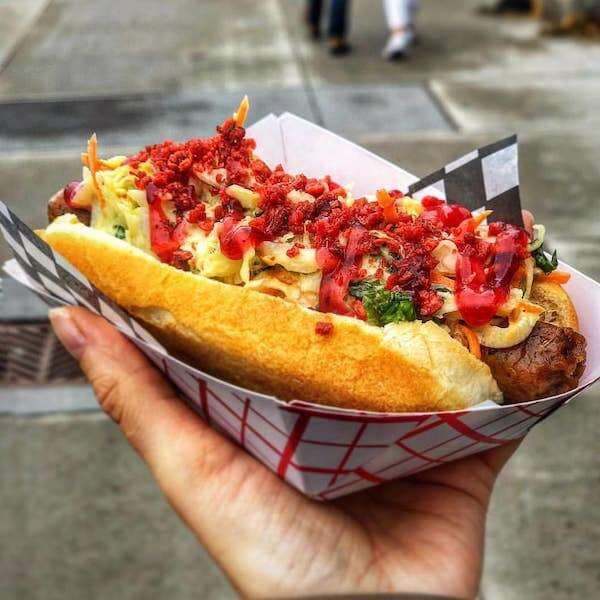 Their signature sausage and the ones I tried back at the food fair. They are made with toasted fennel and oatmeal ale from Leftfield Brewery.
These are just a few of Sausage Party's products but there are more such as two other types of sausages, Ribz with charred red pepper bbq sauce, burger patties, sweets, meal kits and ready meals. I got my hands on some of the salami and I am going to see how well it will go on a homemade pizza 🙂
If you haven't yet, check out Sausage Party and let us know what you think!
* You can order from Sausage Party Directly and have your items delivered or you can pick up from their location at 852 King St. W. Their products can also be found at several other locations across the city like Sorry I've got Plants and online at places like Fair/Square (an independent small business that is fully owned and operated by vegans. They offer a growing selection of vegan products that are responsibly made in Canada and they donate 10% of the annual proceeds to local sanctuaries and vegan-minded organizations).
Also, Now you can get your hands on some Sausage Party with Mama Earth Organics!