My life changed once I found the best natural deodorant in Canada. I sweat a lot and I also work shift work which means I need a deodorant that can work well for a long period of time.
I used to work 13 hr shifts and finding a good deodorant that would last more than a few hours was seemingly impossible for me. I really didn't like using regular deodorants or antiperspirants but I tried many of those also.
I wanted to switch to one with natural ingredients but this proved difficult because I tried probably over 10 different ones but none of them really worked that well.
To be fair even the regular one, I think it was Old Spice, didn't last for very long. Antiperspirants didn't cut it for me either because I couldn't bring myself to wear that stuff on a daily basis. It would turn the underarm areas of my shirts into a chalky white bristle board over time.
What is The Best Canadian Natural Deodorant?
I had given up hope that I would find a natural deodorant in Canada that was vegan and actually worked but luckily a friend of mine found Element Botanicals at a health food store in Kensington Market (so far it's the only place I have found it, other than online). This company makes the best deodorant I have ever tried, hands down!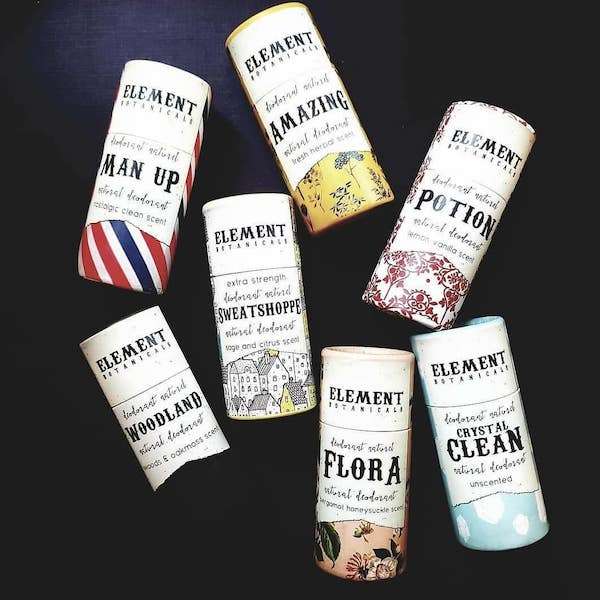 Element Botanicals makes "…botanically charged, aromatherapy spiked goods, featuring wild-harvested and homegrown plants, all of which have been carefully chosen for their benefits and uses in traditional herbalism."
They were founded in 2005 and run their shop in B.C. but you can find their products online and they ship all over Canada.
The fragrance I use is called Man Up but there are many others to choose from.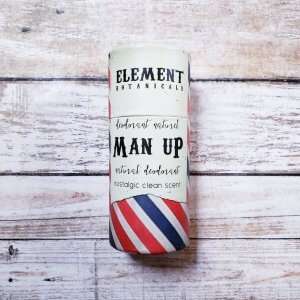 Why is this the best Deodorant?
What I think works so well about this brand is that they have ingredients that actively fight against bacteria and thus you don't smell. Most other deodorants just try to mask the smell with a different one. Check out these ingredients:
Glycine soy wax
coconut oil
Baking Soda
Grape Seed Oil
Candelilla Wax
Corn Starch
Organic Cocoa Butter
Zinc Oxide
Silk Powder
Organic Olive Oil
Calendula Flower
Comfrey Leaf and Root
Matricaria Extract
Plantain Root
Rosehip Fruit
Carrot Tissue Oil
Vitamin E
Green and Black Tea (Kombucha)
Siberian Ginseng
Essential Oils
Since I found this deodorant several years ago I have not used anything else and I don't think you will either if you try it! They also have many other products that I haven't really tried yet (other than their face cream which is amazing as well).
Have you tried this product yet? If not give it a shot and leave a comment below on what you think.