I spend most of my time in Toronto and exploring the vegan scene there but I do like to travel. One of the places I go to that has some of the best vegan food is Vancouver so I thought I would make a list of all the vegan restaurants there.
*List is alphabetical
B
---
1185 W Georgia St.
4.8 ⭐️⭐️⭐️⭐️ – 229 Google reviews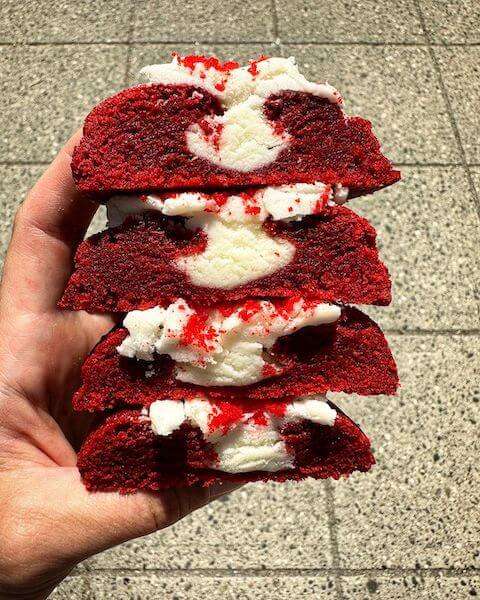 Bonus Bakery is known for their amazing stuffed cookies, pizza pretzels, waffles, almond croissants, cinnamon buns and more. They make everything from scratch and also offer 6 packs and 4 packs of their baked goods.
C
5052 Victoria Dr.
1689 Johnston St.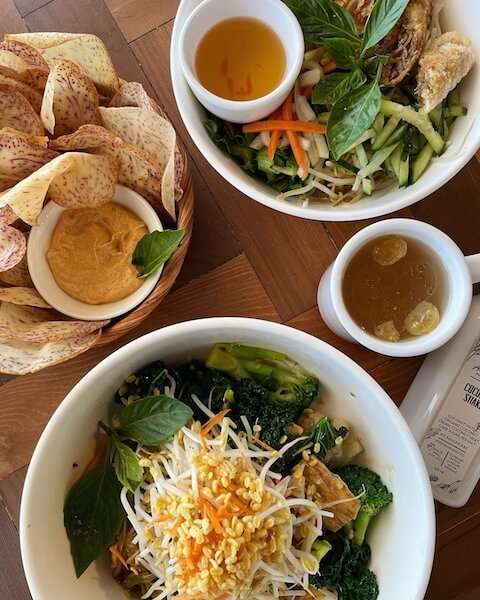 Chau Veggie Express is a vegan restaurant that has a great menu with a fusion of flavors and one of their standout dishes is the "Pho Nom Nom,". This is a fragrant vegan pho filled with a medley of herbs and spices. The "Lemongrass Tofu Banh Mi" features marinated tofu packed inside a crusty baguette with vegetables. Also, their "Coconut Pandan Waffle" for dessert, is a perfect blend of coconut and pandan flavors.
1935 W 4th Ave.
4.3 ⭐️⭐️⭐️⭐️ – 1,070 Google reviews
Chi Plant-Based in Vancouver is commited to using locally sourced, organic, and sustainable ingredients. They take pride in supporting local farmers and producers, which not only ensures the freshness and quality of their dishes but also promotes eco-conscious practices. They offer a rotating seasonal menu that changes with the availability of fresh produce. This means that each visit to the restaurant can bring new and exciting culinary experiences, allowing customers to discover a variety of creative plant-based dishes that reflect the flavors of the current season. Furthermore, Chi Plant-Based is dedicated to creating a warm and welcoming community around plant-based eating. They often host events, workshops, and cooking classes to educate and engage their customers, promoting a holistic approach to a plant-based lifestyle beyond just the dining experience. The menu offers things like the "Chi Signature Burger" and "Miso Glazed Eggplant Bowl," combining perfectly cooked eggplant with a savory miso glaze, served over a bed of fluffy quinoa. Whether you're a dedicated vegan or simply curious about exploring new culinary delights, Chi Plant-Based is a must-visit restaurant in Vancouver's thriving plant-based scene.
4298 Main St.
4.4 ⭐️⭐️⭐️⭐️ – 2,553 Google reviews
Chickpea's menu includes a variety of Mediterranean dishes such as falafels, hummus, fried eggplants, and more. They also offer an all-day breakfast menu that includes vegan eggs benedict with toppings such as avocado, carrot lox, and vegan bacon on crispy potato, zucchini, and dill fritters. Chickpea is known for their delicious food and friendly atmosphere.
1833 Anderson St. #103
4.8 ⭐️⭐️⭐️⭐️ – 175 Google reviews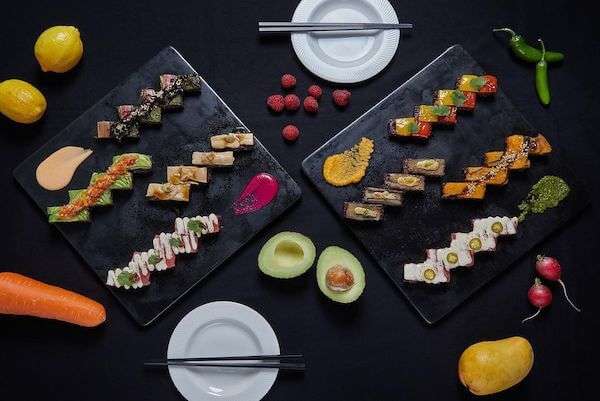 Cofu Vegan Restaurant is a delightful haven for plant-based food lovers. With a warm ambiance and attentive staff, it offers a diverse menu that caters to both vegans and non-vegans. Their signature "Cofu Power Bowl" stands out as a delicious combination of quinoa, roasted vegetables, and marinated tofu, topped with a flavorful avocado dressing. The "Miso Glazed Eggplant" appetizer surprises with its burst of flavors and comes accompanied by crispy kale chips. To end on a sweet note, the "Vegan Chocolate Fudge Cake" proves to be a rich and decadent dessert made with ethical ingredients. For those looking to explore the vibrant vegan culinary scene in Vancouver, Cofu Vegan Restaurant is a must-visit destination.
E
1025 Commercial Dr.
4.4 ⭐️⭐️⭐️⭐️ – 453 Google reviews
Eternal Abundance is an all-organic market and vegan eatery and they have a strong ethical stance on the food they serve and derive from the soil. Their menu is entirely organic, vegan and gluten-friendly. They offer a variety of dishes such as smoothies, wraps, grain bowls and chilis that are made fresh daily. Their breakfast menu includes classics like tofu scramble and buckwheat pancakes. They also offer raw desserts.
F
305 W 41st Ave.
4.9 ⭐️⭐️⭐️⭐️ – 118 Google reviews
Feast & Fallow serves local coffee including roasters General Strike Rooftop Bows. Their menu includes house-made sourdough, a variety of open-faced sandwiches, daily fresh pastries, and a selection of Vancouver's finest plant-based producers and bakeries including Bonus Bakery To Live For and ingredients from Living Tree Foods Yoggu Mindful Fud. They envision and aspire to both demonstrate in action and to advocate on behalf of a just urban food system. A just system respects the whole circle of food production from seed to plate. As part of their education and advocacy work, Feast & Fallow will host regular workshops, both free and paid, on a variety of food issues such as urban agriculture and community gardens, food waste, composting, fermentation, nutrition, sustainable practices, and food security.
2585 W Broadway.
4.8 ⭐️⭐️⭐️⭐️ – 149 Google reviews
At Folke the dishes are made for sharing and they recommend 5-6 dishes for 2 people. They have a tasting menu ($75 pp) in which they select smaller portions of ~7 courses (including dessert). Some of the dishes include Chickpea Tofu, mushroom dumplings, sunflower risotto, and a mix of greens and satiating vegetables. Their menu is ever-changing and comprised of small plates designed with the "sharing is caring" mentality. In other words, no two meals at Folke will ever be the same.
G
1331 Robson St.
4.9 ⭐️⭐️⭐️⭐️ – 382 Google reviews
This vegan hot dog place is excellent with cheerful staff and visitors say that the service is very good. The atmosphere/decor is pleasant and what's nice is that they put an emphasis on house-made pickled and fermented veggies, made-from-scratch sauces, and dressings on the menu. Owners also state that they try to connect with local organic farmers and operate their business with a no-waste, sustainable policy.
K
1370A E Georgia St.
4.8 ⭐️⭐️⭐️⭐️ – 94 Google reviews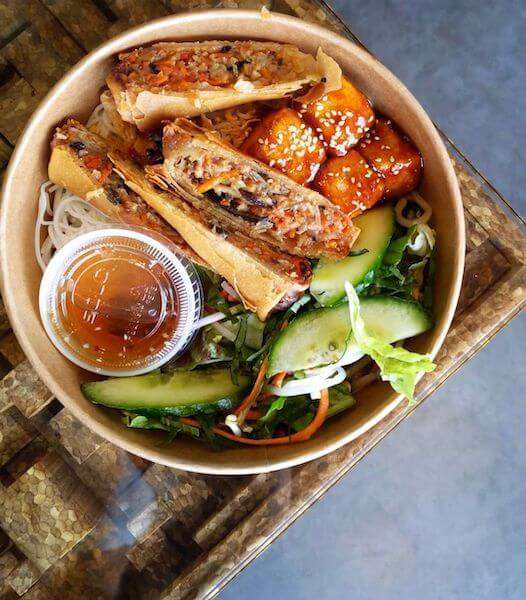 Khoe is a local vegan Vietnamese restaurant and they take a sustainable and eco-friendly approach to food. Their menu includes vegan Vietnamese dishes such as bowls, Banh Mi sandwiches, baos, desserts, and more They also have a mango dessert. You can order vegan takeout and delivery via Ubereats, Doordash or Skipthedishes.
2028 Vine St.
611 Gore Ave.
3270 Edgemont Blvd.
With three locations in the city, Kokomo is a significant influence in the Vancouver vegan scene. Kokomo offers fresh, nourishing, plant-based bowls and smoothies in a sun-filled space. According to their website, they are inspired by the sun – the ultimate source of life – and are on a pursuit to bring the energy and warmth of summer to your daily life through their food and atmosphere. Their menu includes a variety of plant-based bowls such as Coastal Bowl, Coastal Macro Bowl, All Day Breaky Macro Bowl, and Flower Child Salad. They also offer smoothies such as Coco Whip and Acai Bowl.
1370 E Georgia St.
4.9 ⭐️⭐️⭐️⭐️ – 37 Google reviews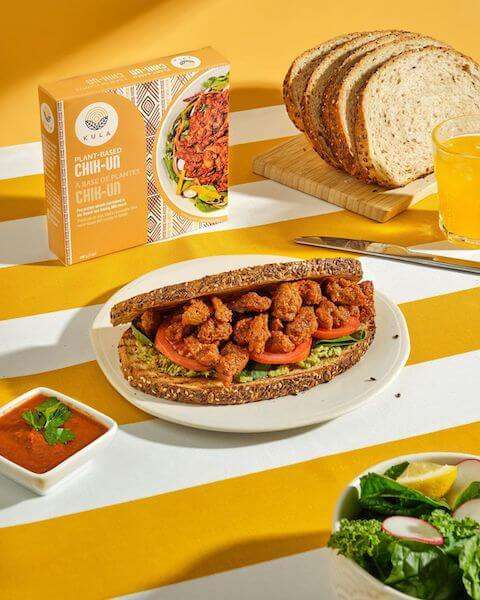 Kula Kitchen produces Afro-vegan food inspired by East African flavours designed for sharing. They offer small and large-scale catering services, Kula food home and office delivery, and packaged retail products. Some of their products include no sugar added BBQ sauces and plant-based meats which can be found on their website and local retail partners. They offer BBQ jackfruit, Chick-Un, a Soul food bowl with collard greens/ mac n cheese/potato salad/corn. Also, stews that you can get by the jar and assemble with your own sides at home.
L
736 W Broadway.
4.6 ⭐️⭐️⭐️⭐️ – 564 Google reviews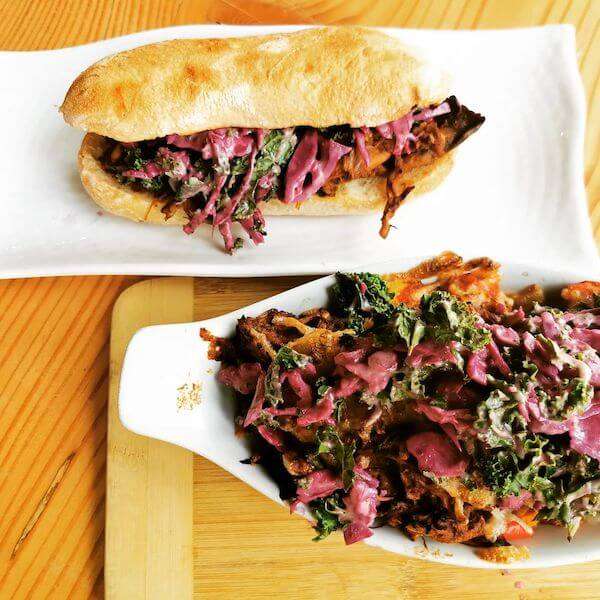 Discover a plant-based culinary haven in the heart of Vancouver at Lotus Seed Vegan. They craft artful dishes using locally sourced, wholesome ingredients. From appetizers to hearty main courses, indulge in a symphony of flavors and textures. They embrace sustainability with eco-friendly practices and deliver savory vegan cuisine like spring rolls, avocado bruschetta, salads, lasagna, mushroom and walnut-stuffed ravioli, pad Thai with tofu, burgers, sandwiches, desserts, and much more.
M
4288 Main St.
1165 Mainland St.
12 Water St.
MeeT Restaurant Group is a plant-based team that was founded by three Vancouver restaurant alumni in 2014. They offer from-scratch, plant-based comfort food that brings people together. They have a mission to change the food industry and the public's perception of plant-based food. They have three locations in Vancouver: MeeT on Main, MeeT in Gastown and MeeT in Yaletown. They offer brunch menus, food menus and gift cards
185 Keefer St.
4.5 ⭐️⭐️⭐️⭐️ – 534 Google reviews
MILA Plant-Based is a premium casual restaurant concept that offers an elevated yet approachable plant-based dining experience. They focus on internationally inspired flavors and trusted culinary innovation. They offer tasty items like tagliatelle, smashed potatoes, tacos, sushi, peanut butter pie, and lots more. They focus on trusted culinary innovation and internationally inspired flavours. They strive to utilize local resources to create a variety of house-made products with thoughtful and creative techniques.
N
1205 E Hastings St.
4.7 ⭐️⭐️⭐️⭐️ – 13 Google reviews
Nafas Kitchen is an authentic Mediterranean vegan restaurant. They offer dishes made to order and have a comfort foods menu with burgers, fries, onion rings, loaded poutine, mac n cheese, and root beer floats plus healthier options like salads and grain bowls. Notable mentions on their menu: Vegan Cheeseboard $60.00-$70.00, Lentil Soup $7.99, Baklava – Walnut $4.00, Mujadara Bowl $11.99, Falafel Bowl, Musakhan Bowl $13.99, Mushroom Shawarma Bowl CAD$15.99 and Soy Curls Shawarma Bowl $13.99. The name Nafas means "breath" or "spirit" in Arabic and those with nafas possess an energy—a devotion to quality, a desire for perfection, and an innate ability to create exceptional meals
1079 Mainland St.
4.4 ⭐️⭐️⭐️⭐️ – 320 Google reviews
Nightshade is a small plate vegan restaurant in Vancouver that offers globally-inspired vegan dishes. They have a la carte style menus that provide diversity with plates and palleted flavors inspired from all around the world. They strive to utilize local resources to create a variety of house-made products with thoughtful and creative techniques.
T
1602 Yew St.
4.6 ⭐️⭐️⭐️⭐️ – 427 Google reviews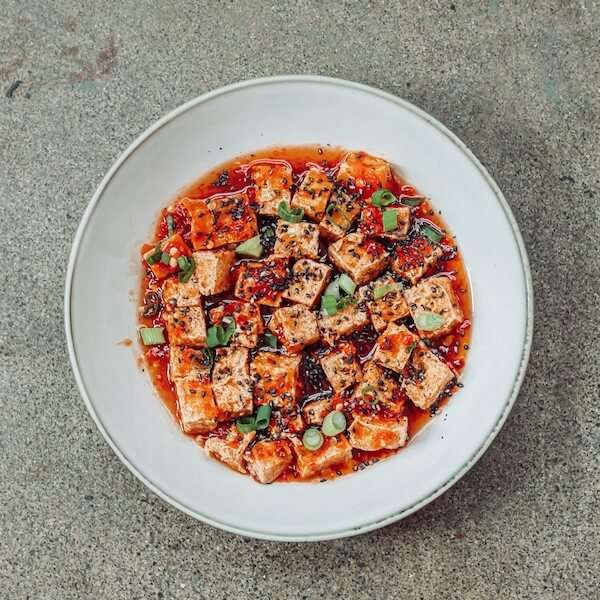 Cidar House's menu boasts a diverse selection of plant-based dishes, catering to all palates. The starters include crispy buffalo cauliflower bites and avocado tartare, both bursting with flavor. For the main course, the jackfruit tacos accompanied by a tangy mango salsa are a hit. The dessert menu includes the decadent chocolate avocado mousse.
V
2260 W 41st Ave.
4.9 ⭐️⭐️⭐️⭐️ – 85 Google reviews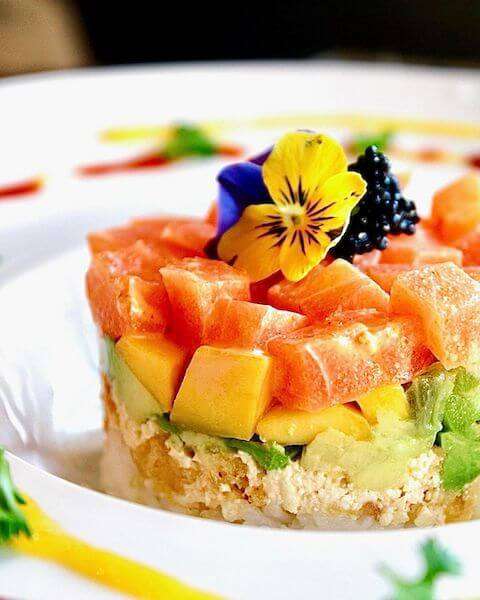 Vegan Shoku is a sushi spot located in Vancouver's Kerrisdale neighbourhood. They offer a plant-based alternative to folks looking for Japanese eats in the city. Their menu includes standard sushi restaurant fare, including starters like agedashi tofu, tempura, and gomae, as well as poke bowls, sashimi, nigiri, and rolls.
1431 Commercial Dr.
4.8 ⭐️⭐️⭐️⭐️ – 300 Google reviews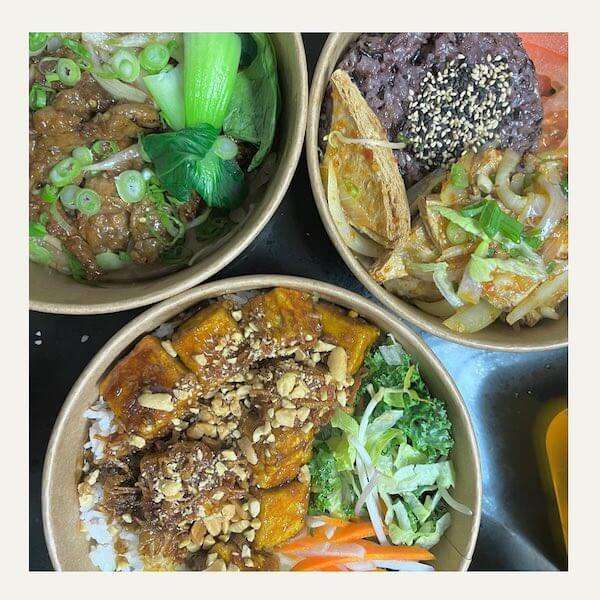 The Vegan House offers Vietnamese cuisine and their menu includes classic green papaya salad, pad thai, caramel spare ribs, cha ca Hanoi, lemon grass chicken tofu bowl, veggie rolls, beef pho, and more. They also have very reasonable prices.
583 Main St.
4.5 ⭐️⭐️⭐️⭐️ – 1,970 Google reviews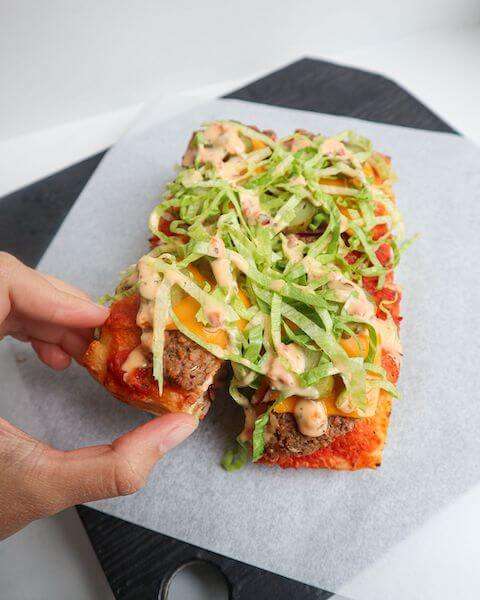 Virtuous Pie is an elevated fast-casual restaurant and they are focused on handcrafted pizza and ice-cream, made 100% from plants. They are all about creating food that tastes great, is good for your body, and supports a healthy planet. Their mission is to bring these values together as a delicious range of plant-based pizzas. They used to have a location in Toronto but sadly they closed after covid 🙁